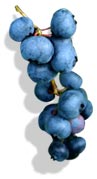 Blueberries Pack a Nutritional Wallop
By MARTHA ROSE SHULMAN
The New York Times, January 25, 2010
Blueberries are the king of fruits when it comes to micronutrients. They may not have the vitamin C of oranges and grapefruit, or the potassium found in bananas. But blueberries do have an abundance of phytonutrients, whose strong antioxidant and anti-inflammatory properties, some scientists believe, may help protect against heart disease, colon cancer and other maladies.
---
Berry compounds may improve blood pressure:
Harvard study Source: American Journal of Clinical Nutrition.
By Stephen Daniells, 20-Jan-2011
Flavonoid compounds from blueberries and strawberries may reduce blood pressure and aid in the prevention of hypertension; suggest findings from a new Trans-Atlantic study.
Increased intakes of anthocyanins mainly from blueberries and strawberries were associated with a reduction in the risk of high blood pressure (hypertension) of up to 12 percent, according to the collaboration between scientists from the University of East Anglia (UK), Harvard School of Public Health, and Harvard Medical School.
---
5 Reasons to Eat Raspberries
Tip of the Day 3/27/2010 courtesy of Dr. Weil on Healthy Aging!
One of my favorite fruits is the raspberry. Known as an aggregate fruit, meaning that smaller sections with seeds and fruit create a larger whole, raspberries have significant nutritional value — they:
Are a good source of vitamin C and fiber.
Provide folate, vitamins B2 and B3, magnesium and other essential nutrients.
Contain ellagitannins, natural health-protective compounds that appear to have potent anti-cancer activity.
Have considerable antioxidant potential (50% more than strawberries).
Place in the top 15 of the American Journal of Clinical Nutrition's best antioxidant sources.
For an added dose of fiber and antioxidants, top your cereal with raspberries, add some to a salad, use them in sauces and baked goods, or enjoy them on their own. Because commercial strains may be heavily sprayed with pesticides, I recommend buying only organic varieties.
---
Blueberries May Take Care of Your Belly Fat
Friday, May 15, 2009 by: Henri Junttila, citizen journalist (NaturalNews)
Blueberries are not only delicious, but also very high in fiber and nutrients. They have been proven to lower blood pressure, protect against oxidative stress and now a recent study shows that blueberries might help you lose that hard to get rid of abdominal fat.
A new study published in Experimental Biology 2009 found that blueberries may change how the body stores and uses glucose (sugar) for energy. Read more.
Blueberries are showing more and more promise in how healthy they are for us. They not only contain antioxidants that are thought to help our bodies fight free radicals, but they also contain vitamins and a lot of fiber. According to the USDA Human Nutrition Research Center on Aging, blueberries are among the fruits with the highest antioxidant activity. Everyone can add more blueberries to their diet, and the good news is that it is simple, mainly because they taste so good. Make a blueberry smoothie, eat your yoghurt with blueberries or just throw some blueberries in your cereal, that's how easy it is!
---
Eating blueberries slashes colon cancer risk by 57 percent, animal study finds
Thursday, July 26, 2007: by Mike Adams, the Health Ranger Editor of NaturalNews.com
A compound found in blueberries shows promise of preventing colon cancer, according to a new study. Scientists at Rutgers University and the U.S. Department of Agriculture conducted a joint study on animals, and found that the compound called pterostilbene lessened pre-cancerous lesions and inhibited genes involved in inflammation.
"This study underscores the need to include more berries in the diet, especially blueberries," said study leader Bandaru Reddy, Ph.D., a professor in the chemical biology department at Rutgers. Although the blueberry compound won't cure colon cancer, it represents a strategy for preventing the disease naturally, said Reddy, who specializes in studying the relationship between nutrition and colon cancer.
---
Health & History of Highbush Blueberries by Vern Grubinger, June 1998
http://blog.wholefoodsmarket.com/2009/06/get-a-blueberry-boost
Vegetable and Berry Specialist University of Vermont Extension Doctors across the country may soon be prescribing lots of little blue pills, and I don't mean Viagra. They'll be advising patients to eat blueberries, because it turns out that this fruit not only tastes good, it's also good for your health. Researchers have found blueberries to be higher in anti-oxidants than any other fruit or vegetable tested. By combating free-radicals in our bodies, anti-oxidants help protect against cancer and delay the aging process. But that's not all, there's evidence that blueberries can reduce urinary tract infections and protect against heart disease, too. One study even found that fighter pilots who were given regular doses of blueberries had significantly improved night vision. Could blueberry pancakes become a military secret?
Centuries ago, native Americans knew that blueberries were good for treating stomach problems, but they were limited to eating wild blueberries. Also called low-bush blueberries, these wild plants grow naturally on acid soils, producing fruit that is quite small on plants that only grow about a foot tall. The domesticated, or highbush blueberry produces bigger berries, and more of them, on a plant that grows nearly ten times taller than its wild cousin.
The domestication of the blueberry started in 1908 when a researcher at the US Department of Agriculture, Dr. F.V. Coville, began studying wild blueberries and seeking out superior plants for breeding. He made his first selection of plants in New Hampshire. In 1911, he lucked out when Elizabeth White, a commercial cranberry grower in New Jersey, learned of his work and perceived its potential. She offered her assistance, and for the next 2 decades she enlisted her pickers to search for exceptionally fine bushes in the wilds of the pine barrens. Dr. Coville made crosses among the best of these, and highbush blueberry industry was born. He developed the first 15 commercial varieties of blueberries, and many more followed as a result of his work. In 1937, a Vermonter took over the USDA blueberry breeding program.
Dr. George Darrow initiated cooperation with state agricultural experiment stations and private growers, so that new varieties could be tested in widely different growing areas. Between 1946 and 1962, he provided over 200,000 seedling plants to cooperators in 13 states. One of these cooperators was his brother Bill, who ran Green Mountain Orchards in Putney. The first highbush blueberries in Vermont were planted in 1948, according to Bill Darrow, Jr. Dad put in 30 or 40 bushes at first. By 1950 he was growing 4 varieties. He tried different ways of feeding them, and lost quite a few in the process. Eventually he got things squared away, so we cleared the pines off Round Hill, hauled in sawdust from the mill, and planted a couple of acres.
We started in 1952 but it took 3 years to get enough seedlings to finish the planting. Across town, another apple grower, Frank Harlow, was also experimenting with blueberries. "Uncle Frank was a researcher at heart" says Don Harlow, who has grown fruit for 50 years at Harlow's Sugar House. In 1963, Don and his wife Maddy put in their first acre of highbush blueberries, the second commercial planting in the state. Today, each farm boasts about 15 acres of blueberries, and Putney remains the blueberry capital of Vermont. Elsewhere, word has gotten out about highbush blueberries. They are now grown far and wide, all the way to Japan. Closer to home, 1998 may be one of the best blueberry years ever. There s a huge crop in most locations. Pick soon, and pick often. Freezing the berries doesn t diminish their health benefits, so put some up and enjoy them later. A bowl of blueberries a day keeps the doctor away!
---
Berry fruit supplementation and the aging brain.
(The) consumption of diets rich in antioxidants and anti-inflammatory polyphenolics, such as those found in fruits and vegetables, may lower the risk of developing age-related neurodegenerative diseases. Research suggests that the polyphenolic compounds found in berry fruits, such as blueberries and strawberries, may exert their beneficial effects either through their ability to lower oxidative stress and inflammation or directly by altering the signaling involved in neuronal communication, calcium buffering ability, neuroprotective stress shock proteins, plasticity, and stress signaling pathways. These interventions, in turn, may exert protection against age-related deficits in cognitive and motor function.
---
The 11 Best Foods You Aren't Eating by TARA PARKER-POPE
The New York Times, June 30, 2008
Nutritionist and author Jonny Bowden has created several lists of healthful foods people should be eating but aren't. It Includes Frozen Blueberries at #10.
Even though freezing can degrade some of the nutrients in fruits and vegetables, frozen blueberries are available year-round and don't spoil; associated with better memory in animal studies.How to eat: Blended with yogurt or chocolate soy milk and sprinkled with crushed almonds.
---
NY Times: Some Fruits Are Better Than Others
By 
NICHOLAS BAKALAR
The New York Times, September, 4, 2013
Recent studies have found that eating a greater variety, but not a greater quantity, of fruit significantly reduces the risk for Type 2 diabetes. This made researchers wonder whether some fruits might have a stronger effect than others.
Using data from three large health studies, they tracked diet and disease prospectively over a 12-year period in more than 185,000 people, of whom 12,198 developed Type 2 diabetes. The analysis appears online in BMJ.
The big winner: blueberries. Eating one to three servings a month decreased the risk by about 11 percent, and having five servings a week reduced it by 26 percent.