We are open Wednesday from 10:00 – 6:00 PM. The fall raspberries are excellent in quality and after being closed all day Monday and Tuesday morning there are plenty to pick today. They will continue to ripen until we get a hard frost–and there is nothing lower than 44 degrees forecast through October 4. We usually have fresh raspberries for sale in the farm store too.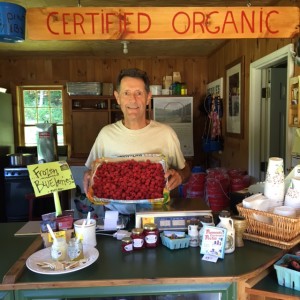 Blueberries have passed by, but we do have frozen blueberries for sale in the farm store along with raw honey, honeycomb, jam, maple syrup and other merchandise.
See you at the farm!
We have raw honey, jam, and maple syrup for sale and we can ship you these products. (All ingredients in the jam are certified organic save for the Pomona's fruit pectin–made from lemon peel–and the honey is raw and unfiltered, and the bees are kept well away from any spraying or GMO crops, although none of them are certified organic). Please write to us using the contact page or to rob@vermontberries.com and let us know what you would like.