Blueberries are still very plentiful, but we are seeing signs of the season tapering off. Patriots, which we have been picking for a month, are starting to pass by, but the other three varietals ripen later than Patriot and have much more firm fruit in them still. Pickers are coming in with full big buckets of blueberries still.
The crop should continue to offer good pickings through the coming weekend and maybe even beyond, but the best time to pick is right now. Each day that we go now will see more of the berries going by. Please come on down and help us bring in the crop.

We are open from 10:00–6:00. These are our regular hours, weather and crop permitting.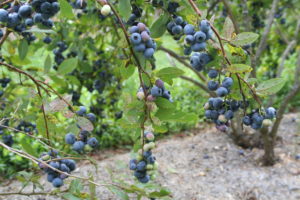 The summer raspberry patch has passed by. The fall raspberries will begin to ripen around Labor Day and will continue through September, and even into October until first frost.
 See you down on the farm!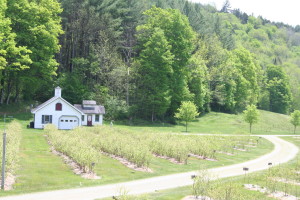 At our farm store we sell raw honey–we have White Clover at present, others coming–low-sugar jams (blueberry and raspberry), and maple syrup. We also have other store merchandise for sale such as garden bird spinners, pectin, and The Vermont Farm-Table Cookbook, in which we are featured with two recipes.
Please note that all ingredients in the jam are certified organic except for the Pomona's fruit pectin–made from lemon peel–and the honey is raw and unfiltered, and the bees are kept well away from any spraying or GMO crops, although none of them are certified organic. Please write to us using the contact page or to rob@vermontberries.com for more info.