Winter is upon us and we are closed for the season.Thanks for your support in 2016. We will open up in 2017 around July Fourth, for raspberry picking.
We can ship you our raw honey (we have three different flavors), Patricia's famous low-sugar jams (blueberry and raspberry), and maple syrup. Just write to Rob at rob@vermontberries.com. We also have other store merchandise for sale such as garden bird spinners, pectin, and The Vermont Farm-Table Cookbook, in which we are featured with two recipes.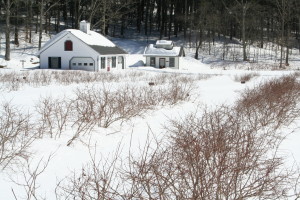 Please note that all ingredients in the jam are certified organic save for the Pomona's fruit pectin–made from lemon peel–and the honey is raw and unfiltered, and the bees are kept well away from any spraying or GMO crops, although none of them are certified organic. Please write to us using the contact page or to rob@vermontberries.com and let us know what you would like.