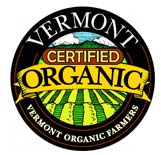 An overnight low of 23 degrees on Columbus Day weekend brought the 2014 berry season to an end. Thanks to all for your support this year. We will open again around July Fourth in 2015 for summer raspberries, with blueberries ripening later in July.
You can buy raw honey, jam, and maple syrup by writing to us at rob@vermontberries.com or calling us at 802-767-9385. The jam, honey, and syrup are not certified organic, although all ingredients in the jam are certified organic save for the Pomona's fruit pectin (made from lemon peel), and the honey is raw and unfiltered, and the bees are kept well away from any spraying or GMO crops.
During the season, do check out our blog for updates and other important information. Or drop by for a coffee or tea, a jam sample, or just to take in the beauty of this corner of the valley on a gorgeous day and say hello.