Our regular hours are 10-6, weather and crop permitting. The raspberry picking right now is really good. Prelude raspberries are still going; Nova raspberries are ripe also; Anne (the golden ones) can be picked starting Friday (first pickers in will do best), and Taylors will be ready sometime next week.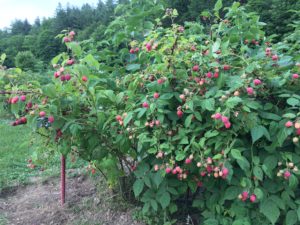 Blueberry picking will start this weekend too. Patriots are the first varietal to ripen and there will be some ripe berries in this part of the patch to get by the weekend, but as always the earliest fruit might be a bit tart. Sweeter berries in greater volume will be available starting next week some time.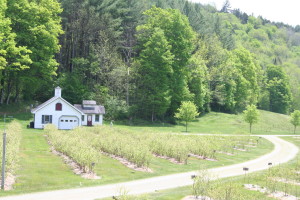 We can ship you our raw honey (we have three different flavors), low-sugar jams (blueberry and raspberry), and maple syrup. Just write to Rob at rob@vermontberries.com. We also have other store merchandise for sale such as garden bird spinners, pectin, and The Vermont Farm-Table Cookbook, in which we are featured with two recipes.
Please note that all ingredients in the jam are certified organic save for the Pomona's fruit pectin–made from lemon peel–and the honey is raw and unfiltered, and the bees are kept well away from any spraying or GMO crops, although none of them are certified organic. Please write to us using the contact page or to rob@vermontberries.com and let us know what you would like.