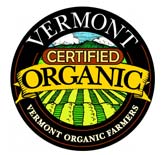 Come early today for your picking: thundershowers are likely this afternoon and we don't allow picking in such weather nor in a wet patch.
There should be good raspberries to pick today. Blueberries should be good too, although they do not accelerate into ripeness the way raspberries do. Do call the farm, 802-767-3989, before you come down, to check on picking conditions. Weather forecast: "….Showers likely and possibly a thunderstorm between 1pm and 5pm….Some of the storms could produce small hail. Mostly cloudy, with a high near 70. Chance of precipitation is 70%. New rainfall amounts between a tenth and quarter of an inch, except higher amounts possible in thunderstorms.."
The summer raspberry crop will continue through this week, mainly in the Nova variety, although the intrepid picker will find Reveille too, which are particularly sweet and tasty. Blueberry picking began this week but has not reached abundance yet. Our fall raspberries will ripen around mid-August.
Our usual hours are 10 to 6, weather permitting. The first pickers each day will generally do best (raspberries ripen up quickly and blues are just starting). We try to keep a supply of pre-picked berries on the counter (please understand if we sometimes can't keep up!), and we have wonderful jam as well as local syrup, coffee, bottled drinks, and The Vermont Farm Table Cookbook. FYI, the jam and syrup are not certified organic, although all the ingredients in the jam are certified organic, except for the Pomona's pectin. FYI, we don't generally allow raspberry picking when it is raining (bad for the crop), so do check to see if we are open on stormy days.
BERRIES YET TO COME: Our crop of Fall Raspberries (planted over the last 3 years, and getting more prolific each year) emerges in mid- to late-August and goes on until the first frost of the fall. Last year the first "killing frost" was not until Oct 27th! We might have some blackberries around Labor Day — these will be the blackberries planted over the last couple of years — not a huge quantity (yet), but should be good quality.
GENERAL INFO: We have four acres of blueberries–2,500 bushes–about three acres of raspberries and a few rows of blackberries. We are a pick-your-own (PYO) farm. You may also buy pre-picked organic berries at our farm store, along with Patricia's fabulous jams, honey from the farm's bees (although we are out right now), local maple syrup (these products are not certified organic), coffee, and books. We also have wireless Internet connection at the farm store.
Do check out our blog for updates and other important information.
Please do drop by for a coffee or tea, a jam sample, or just to take in the beauty of this corner of the valley on a gorgeous day and say hello. We'll see you at the farm!